School Curriculum
The curriculum at Thornton Dale is broad and balanced. We have a creative approach which is specifically tailored to our children's needs. As a staff team, we have given careful consideration to our children; their experiences and needs and developed a bespoke curriculum model that caters for them specifically.
Our curriculum intent is to:
Ensure that all children feel safe and happy in order for them to achieve their absolute potential

Have a positive impact on the local community

Embed Christian values of kindness, friendship and respect

To develop tolerance, empathy and tackle stereotypes, preparing children for life in modern Britain

Prepare children for their next steps; from key stage to key stage and beyond

Be child-led, engaging and exciting

Develop creativity and collaboration skills

Challenge each child to achieve

Develop independence, growth mindset and resilience through meaningful and relevant content and approaches

Encourage outdoor learning and use forest schools principles

Engage parents and families
Our curriculum is implemented through Learning Missions. These are whole school, cross curricular topics that aim to inspire and excite children about new learning. The children go on a learning journey from launch to landing. We are currently introducing knowledge organisers to support the learning of key knowledge so that children remember long term the content they have been taught.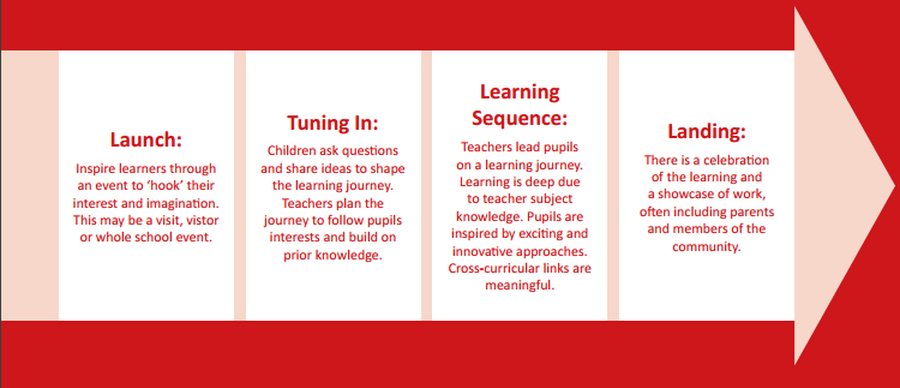 We value each child's contribution and individuality. Our Learning Mission books are full of published work that the children are proud to share at our landing events. We also share our learning on our class facebook pages.
When planning, consideration must be given to how best we can meet children's needs, include all children and motivate them. The impact of our curriculum approach is that it truly inspires learners, igniting a learning passion and developing 'learning for life'.
English and Maths are taught as discrete sessions in the morning, but wherever possible they will link to the current Learning Mission. The foundation subjects are taught through Learning Missions. English and Maths skills are also applied across the curriculum. Weekly Science sessions link to our 'Learning Missions' wherever possible. Teachers ensure a clear progression for all and have high expectations for children's achievements in all subjects.
Our Reception children follow the Early Years Statutory Framework which is delivered through identifying children's interests and planning provision to meet the needs of the areas of learning. The Reception children are assessed at the end of the year against the Early Learning Goals.
Every class will access Forest Schools at some point over the year making use of our extensive grounds. We also deliver a sports curriculum making good use of our Sports Premium Funding to employ Hawkes Fitness to deliver games skills to all classes.
To find out more please contact Mrs Danielle Collins our Curriculum Lead.