It is with great sadness that all of the staff and children in Elevate Multi Academy Trust academies mourn the passing of Queen Elizabeth II on 8th September.
We know that throughout her long life and through the grace and leadership she showed, the Queen meant a great deal to our communities.
We send our deepest sympathy to King Charles III and the whole of Royal Family. Our academies will mark the period of mourning in their own ways and we will be in touch with parents and carers on any further arrangements.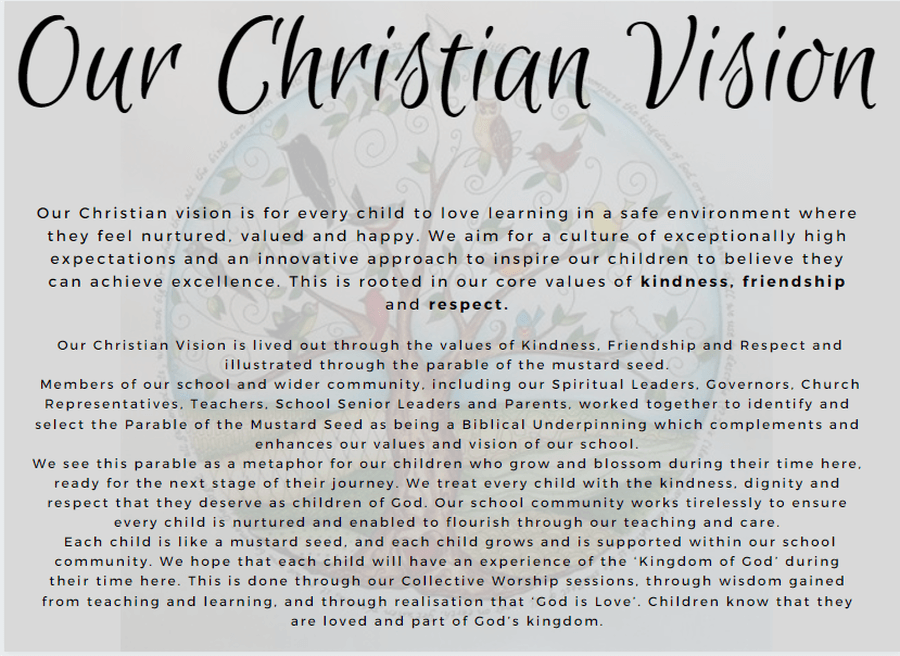 What shall we say the kingdom of God is like, or what parable shall we use to describe it? It is like a mustard seed, which is the smallest of all seeds on earth. Yet when planted, it grows and becomes the largest of all garden plants, with such big branches that the birds can perch in its shade." The parable of the mustard seed. Mark 4:30-32 (NIV)
Upcoming Events
Latest School Calendar Events
National Poetry Day

06

Oct

2022

Parents Evening - Virtual

11

Oct

2022

12:00 am - 1:00 am

Parents Evening - In Person

12

Oct

2022

12:00 am - 1:00 am

Tutti Frutti Production KS1

18

Oct

2022

10:30 am - 11:30 am

Tutti Frutti Production KS2

18

Oct

2022

1:00 pm - 2:00 pm
Updates from the Head
You can find weekly Class Newsletters on each Classes' page.