At Thornton Dale Primary School, we ensure that children achieve mathematical proficiency in a safe and happy environment, where they will try hard when learning becomes difficult, through a creative and child-led approach. The term 'mathematical proficiency' captures what it means for anyone to learn mathematics successfully.
We have developed our own approach to achieving mathematical proficiency, taking the most effective approaches to teaching and learning of the subject from research both in England and further afield.
Mathematics learning begins in our Early Years Reception class, where children make predictions, test out ideas, solve problems and experiment; all often by working collaboratively with their peers or with an adult. Children are introduced to number using engaging and high-quality resources such as NumberBlocks and gain a deep understanding of the value of number. In reception, children are introduced to different representations of number including using Numicon, tens frames and part-whole models.
Learners in Year 1 to Year 6 begin every day with Early Bird. This is a daily approach of 15 minutes which ensures that pupils develop fluent recall of facts, understand procedures and develop fluency and understanding of basic skills through repetition of prior learning.
We teach the National Curriculum for maths through the CPR model.
Conceptual understanding
Procedural fluency
Reasoning and Problem Solving
The CPR model allows opportunity for greater depth of proficiency by building on learning as well as supporting struggling learners with frequent opportunities for support and revisiting learning.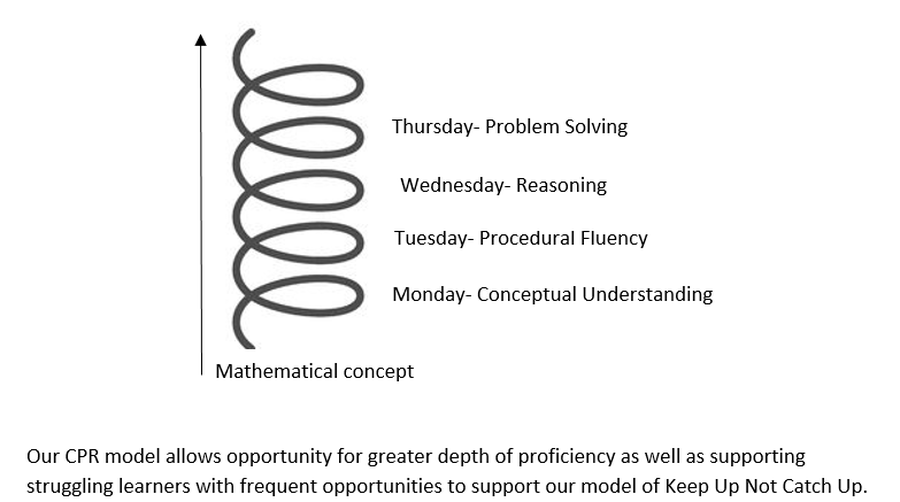 Children also hold a weekly Arithmetic Clinic, where arithmetic is taught for an hour every week as a stand-alone session.
We use Times Table Rockstars and other ICT programmes to support mathematics learning in school and at home and encourage parents to support maths learning at home by involving them in everyday activities. We also encourage parents not to underestimate themselves, or the power they have as a parent getting involved in their child's learning.
Click here to view our Maths Progression Document.